Home
Links
Here are some of my favorite comic art related sites. Also below are some Human Torch Art Project banners if you would like to link to this site.
---

comicartfans.com: This site represents just about the largest display of original comic art you can find anywhere on the web. Includes a huge number of galleries posted by artists and collectors of all levels.





dragonberry.com: dragonberry boasts an extensive directory of comic art links. Links to artists, comic art galleries, comic art resources, comic art sellers, and comic book publishers are all included.





Comic Art Commissions: Looking to commission an artist for a custom piece featuring your favorite character(s)? This relatively new site represents a venue to connect buyers with artists. Included are pencillers, inkers, colorists, painters, letterers and digital artists all itching to take on your projects.





Serendipity Art Sales: Represents a number of talented artists for original art sales and commissions. Pieces from a number of these artists are included on this site.





Evil Ed and Nasty Ted: Ever wonder what would happen if one of your toys came to life AND was out to get you? Stop wondering and check out this very funny strip written and drawn by independent artist Russ.D.Toole. Evil Ed and Nasty Ted is like nothing you've ever seen before.






The Gambit Gallery: A great collection of art featuring the X-Men's resident card tossing cajun. Includes commissions, published and unpublished art and sketch cards.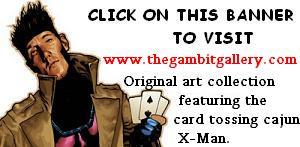 ---
Banners
If you would like to link back to this site, feel free to use one of the following banners.