Commissions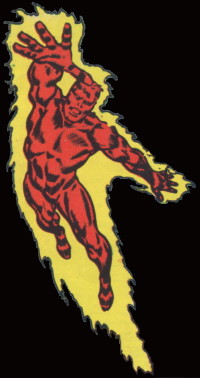 Welcome to the Human Torch Art Project. This site is an artistic tribute to the Fantastic Four's resident "match stick", Johnny Storm aka the Human Torch. Inside, you will find commissioned, published and unpublished art from various comic artists.

I've collected original comic art for some years, but really without any specific theme. I simply bought what cought my eye. As I began to engage artists for commission work, I decided I needed to get a little more focused. I elected to center on one character and searched back to my youth to decide which one. As a kid, my favorite comic was the Fantastic Four and my favorite character in that book (and in all comics) was the flaming, high-flying Human Torch. As a result, I began collecting art featuring Johnny Storm. This part of my collection is always growing butI hope you enjoy what I've put together so far.

If you would like to receive notification whenever a new piece of art is added to the site, please Email Me with the word "subscribe" in the subject line. Rest assured, your email will be used only to inform you of site updates and will NOT be shared with any third party. Also, please feel free to email me if you have any nice pages featuring the Torch that you are interested in selling.



| | | |
| --- | --- | --- |
| Commissions | Published Art | Unpublished Art |
| | | |
Click on one of the three images above to view more art.